/ Friday, May 27th, 2011
Has everyone noticed how Leopard always tends to make a comeback. Right when everyone gets sick of it, it is gone. 2 years later its back and bigger than ever.
Right now, Leopard print shoes are back and more fierce than ever. I am in love with these Steve Madden wedges. Wicked-L
I wear a size 8.5 in case someone is feeling generous hahah!
Jeffrey Campbell also makes a Leopard wedge 
 "Tick"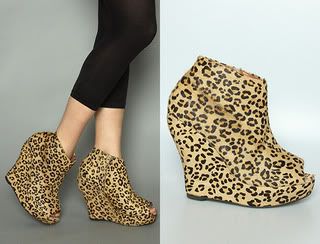 but I am not a huge fan of the "itty bitty" leopard print. It looks very cheap to me. You know how much I love Jeffrey Campbell.. he did not do such a great job on these! Sorry Jeff!
Does anyone have any other trends they are sick of or trends they wish would come back?
Not gonna lie, I have always been a big fan of leopard print.
VIVA LA LEPS!
xoxo
Jayme Foxx