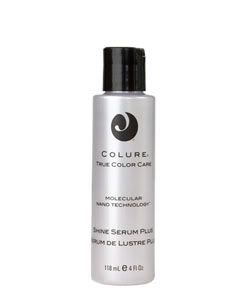 Recently, I was getting my huuuuuuurrr trimmed!  There was a girl who worked in the salon with the most shiny, healthy looking hair. I (obviously) approached her and said "daaang woman, your hair is awesome!!!!" She told me she used this shine serum and instantly, I stopped her! I said " Is it Moroccan Oil? I use that stuff as well!" She proceeded to tell me, " ew no, I don't use that stuff, It weighs my hair down and is full or preservatives!" She had me curious! She showed me this Colure Shine Serum.  She explained to me how it was all organic and it didn't weigh her hair down.  After time, will repair the hair.  I was like, "okay, Im skeptical"  So, of course I bought some :)  It was HALF the price of the Moroccan Oil and it actually makes my hair feel awesome. This is day 4 of using the shine serum.  My hair is shiny, soft and seems more manageable. It can also be used as a heat protectant  and you can add some drops to your conditioner  for extra color boosting!
All in all, I rate this product A++++
I WAS a huge fan of the Moroccan oil, until I tried this stuff….
I am in love with this product… If you try it or have currently used this product, send me your feedback!
XOXO
Jayme Foxx