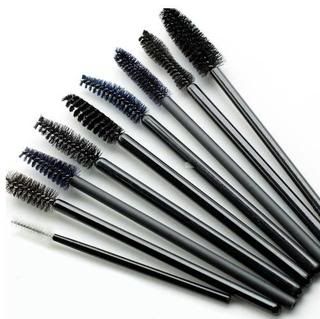 I have been on a "mascara" hunt for quite some time now. I literally have tried EVERYTHING! Thank you to everyone for the help and suggestions!
I am dedicating this blog to the best and worst mascara's. If you do NOT care about mascara, you will no longer be needed here :)
WORST!
CoverGirl – Lash Blast $7.99
this is the MOST flaky, sticky mascara ever. My eyelash curler got stuck to my lashes everytime I used it. Flaked on my face all day! sorry Drew Barrymore, but I am not a fan
M.A.C.- Plush Lash $14.00
Nope, nope and nope! this mascara is so sticky and made my lashes very brittle. I love MAC but not their mascara's
Maybelline – Great Lash $5.00
Honestly, I don't see what is so great about this mascara. My lashes didn't look longer and thicker. just darker. So, I wasn't too impressed
BEST!
Fresh – SuperNova $25.00
This mascara is tar free and alcohol free, so my lashes were not sticky or flaky. Also it has a conditioning oil that helps your lashes.. YES!!
Almay – Get up and Grow $8.00
I was hesitant with this BUT I am surprised! It wasn't flaky or sticky and has natural conditioners to help promote lash health/growth. LOVE THIS ONE
DiorShow – BlackOut $30.00
I was a big fan of this mascara, the only downside to this – it dries out pretty quickly. If you don't like spending $30 on a mascara then I would suggest you grab Benefit – Bad Gal Lash. It literally is the EXACT SAME THING for $19
I hope this helps anyone out there struggling with mascara's. Also, if there is a mascara I did not name that kick's ass, please let me know.  I am sure I will try it :)
xoxo
Jayme Foxx