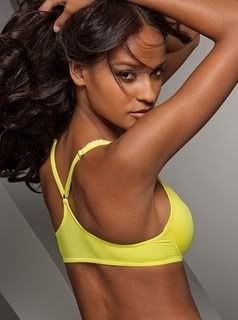 Haven't we all wanted "the perfect bra?"
Well , I found it!  Victoria's Secret has a bra called "Body by Victoria – Racerback Demi"
Its  HEAVEN on my boobies :)  It has MemoryFit, which basically means memory foam. It forms to the bosom and its soft. There is very little padding (which is awesome) and ITS RACER-BACKED!!!  I don't know about you gals, but I HATE having to criss-cross my straps or find that tiny, little annoying hook on the strap to racerback the bra.  This is already racer-backed! I wear alot of tanks and I hate when my bra straps show.
Let me just tell you why I am blogging about a bra!  This bra, yet functional and comfortable.. also makes my boobs look like a vanilla sundae! They kick ass in this bra!  I have never been more happy with a bra. To add the cherry on top, its only $45.00. I bought one in buff and black!  
Give me some advice on better bras if you all have one that you think is better than this one.. I'm pretty hooked — get it.. Bra.. hooked?  nevermind haha!
Viva la Boobies
Jayme Foxx